Contribute your collection
People search Trove for all kinds of personal, professional and academic research or for curiosity or fun. Add your collections to make sure they find your historical information, documents or material amongst the full Australian cultural context online. 
Do you want to share your physical or digital collections with people searching Trove?
Do you have an online collection you'd like to add to Trove?
Do you use a cloud service for describing your collection, and want to add it to Trove?
Do you want to set up automatic updates to add your catalogue records to the national cultural collection?
Then Trove wants to hear from you!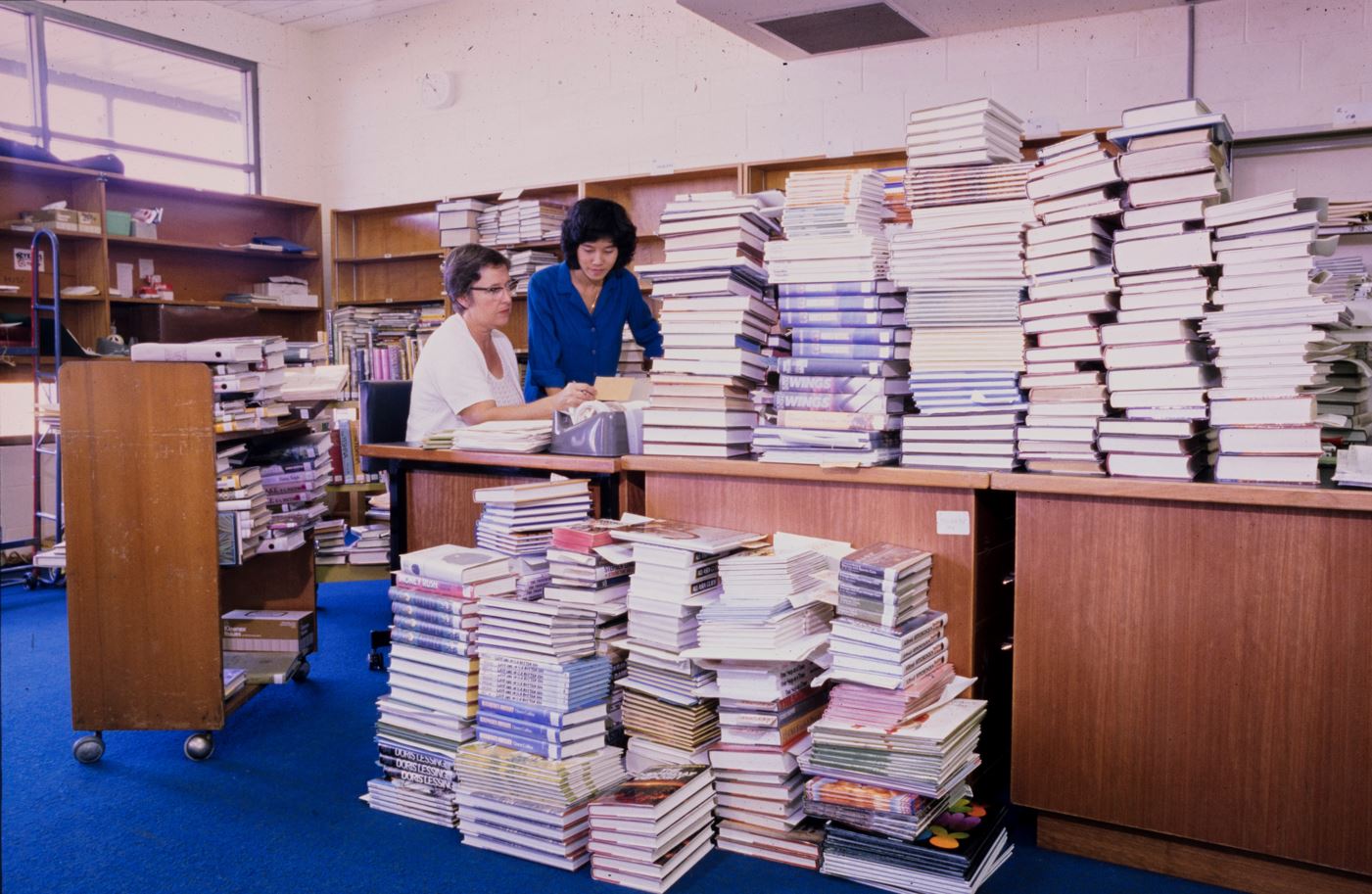 Daphne Fegan and Yeow Phang at desk, library workroom, 1982, Library & Archives NT, trove.nla.gov.au/work/249712764
 
Our service
There are many ways collections can appear in Trove. Collections can be large or small, from a library catalogue, museum database, image collection or other source. It's easy to share your collections with Trove – you don't need to be the experts. 
We collect:
Online content – where the physical collections or objects have been

digitised

Born digital publications – that were created in an online format only, and

Bibliographic metadata – describing the item and its location.
You will always be the stewards for your collection and will maintain ownership of description and management. We can bring your collection into Trove in a way that is suitable for your formats and systems. We can automatically check for updates, so you don't have to.
National edeposit (NED) provides a single deposit service for publishers. Learn more about NED.
Get started
We can accommodate many different systems and workflows. 
Contact us and our dedicated and experienced service and technical support team will work with you to find the best way to add your collections to Trove and the Australian National Bibliographic Database (ANBD) based on your workflows, systems and format of collection material.
Partner experiences
Syncing library data for efficiency and accuracy at the State Library of Queensland 

The State Library of Queensland recently worked with Trove to sync their very large library data set with the Australian National Bibliographic Database (ANBD) and Trove by using the Open Archives Initiative Protocol for Metadata Harvesting (OAI-PMH). They had formerly been using the Record Import Service (RIS) process. While the set-up was not without its challenges it proved to be well worth the effort. Rachel Merrick, Lead of the Metadata Services at State Library of Queensland has found many benefits changing from RIS to OAI. 
The main one is obviously that records are updated daily. We also saw this as an opportunity to review our current workflows using Alma as our library management system, and changing over to Primo VE as our new discovery system, and set up a more streamlined approach.

It also let us clean up a lot of existing records that we found might have had duplicates. After we had everything loaded, the Trove team went through and got rid of records that hadn't gone through on the OAI harvest. The team at Trove was really responsive and we now have a fast and smooth workflow and a really up-to-date set of our records available to users.
Significant saving in both time and cost: automating Brimbank Libraries' contributions to the ANBD

Brimbank Libraries made the move to using the Open Archives Initiative Protocol for Metadata Harvesting (OAI-PMH) for daily holdings updates in the Australian National Bibliographic Database (ANBD) in 2020. They had been previously using the Record Import Service (RIS) process and found it to be time-intensive, requiring significant manual handling.

Through a smooth process involving minimal configuration of their Koha Integrated Library System (ILS), they worked with the Trove Partner team to set up daily harvesting of their records.

The 'snapshot' or 'historical' nature of our holdings under the RIS process meant items that were no longer available to borrow could still be viewed in the ANBD until the next infrequent update; this was detrimental to our customer service, and further contributed to staff workloads.


The harvesting was flexible enough to filter based on criteria we specified, ensuring only relevant content was harvested. 
Our contribution to the ANBD is now a completely automated process. All records are now updated daily, basically eradicating any issues from outdated data. Customers, both locally and nation-wide, are able to view and access our resources with confidence.


There has also been a significant saving in both time and cost, as the automated process no longer necessitates manual contributions to the ANBD on our behalf from suppliers, which often had an associated cost.


We would highly recommend moving to OAI-PMH for any ANBD contributors, both large and small.

Ayden Said, Library Collections Team Leader, Brimbank City Council