Access to your collection
Trove is a single point of entry to a treasure trove of cultural material, curiosities and stories from hundreds of partner organisations across Australia. We want to work together to share our rich history and stories with the curious.
Do you want a digital presence that can be accessed by the national audience?
Do you want your online collections discoverable to maximise your reach and investment?
Does your partner organisation have a specific digital collection in Trove you would like to feature?
Would you like to share the story of your organisation or how someone has used your collection?
Then Trove wants to hear from you!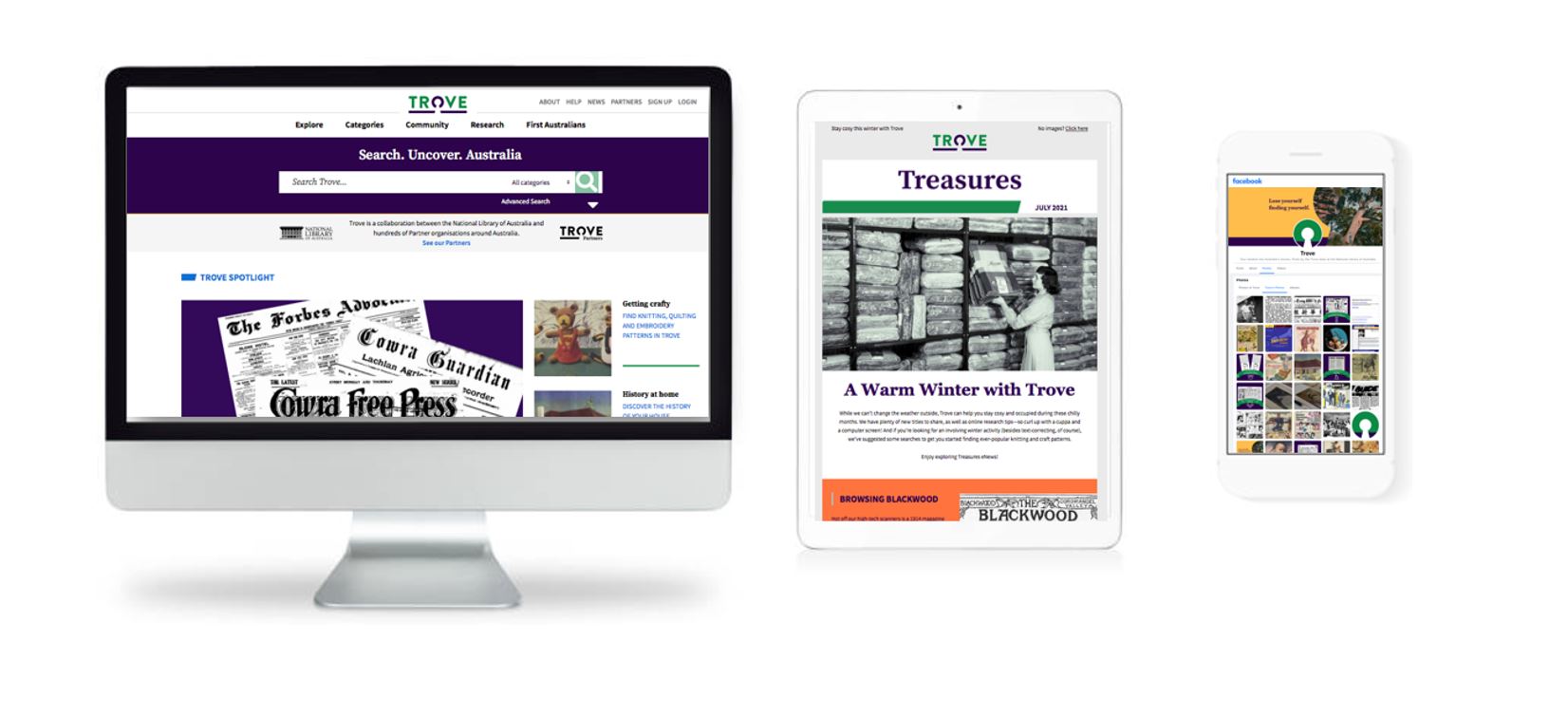 Our service
Trove Partners can make promotional content available in the digital era whilst being recognised for it as a unique collecting organisation. Once your collections are on Trove, you are part of Australia's largest discovery portal where your collections can be seen and engaged with by a strong loyal national audience. Trove users are frequent visitors and stay for a long time.
We can help enhance your presence and connect your collection to the Trove audience by tailoring a marketing campaign to your stories, using one or a number of promotional channels, all of which can feature your logo:
We run an online exhibition program of collection features for partners that can bring together:
your whole digital collection (perfect for smaller organisations or collections with specific subject-area strengths)
collections on a specific theme 
collections relevant to a specific research project, exhibition, publication, learning program or local community
collaborations with collections of other partners.
These collection features provide a way for users to browse collections and uncover unexpected corners of Australia's cultural collection.
 
Get started
Intrigued? It's easy for Trove Partners to get started:
Contact us briefly outlining what you would like to promote and the channel/s you are interested in
We will get back to you to discuss your proposal and the most suitable channel/s
Submit your draft promotional content. See the content guidelines for your selected channel: blog posts, collection features, events and news, trove trivia
We will edit your content and seek your approval before publishing on Trove
Promote your published content and Trove will too. Make sure you refer to co-branding.
Partner experiences
Creating digital access: cross-promoting the diaries of Frank Fenner with the Australian Academy of Science

Trove and the Australian Academy of Science collaborated to promote the significant achievement of digitising Professor Frank Fenner's travel diaries and provide digital access to the diaries on Trove. These remarkable manuscripts are held in the Academy archives and were added to the UNESCO Australian Memory of the World Register in 2019. They were digitised by the National Library of Australia with support from the Asia Culture Center and the UNESCO Memory of the World Committee for Asia and the Pacific. 

Trove promoted the story on its website homepage, in the Trove Treasures enewsletter and on social media, while the Academy promoted a longer-form blog post using its own communication channels in tandem with the Trove campaign. These efforts resulted in uptake of the story by the UNESCO Memory of the World newsletter, strong stakeholder satisfaction and contributed to generating funding for future digitisation projects. 

Thank you for your work on digital access to the Academy's Fenner manuscript material. We have had some excellent feedback on this project, which even made it into the UNESCO Memory of the World newsletter, and stakeholders appreciated seeing the story on the Trove homepage. We have managed to secure resources to expand digitisation of the archives and plan to use the Fenner project as a basis for other collections.
Clare McLellan, Archivist and project lead, Australian Academy of Science.