Trove's purpose is to enable cultural content to be managed, explored and engaged with digitally. Trove Partners are collecting organisations across all Australian jurisdictions who work together to grow the combined digital collection in Trove.
Trove Partners provide their digital collections to build a national, combined collection and Trove provides the platform to explore their collections in context.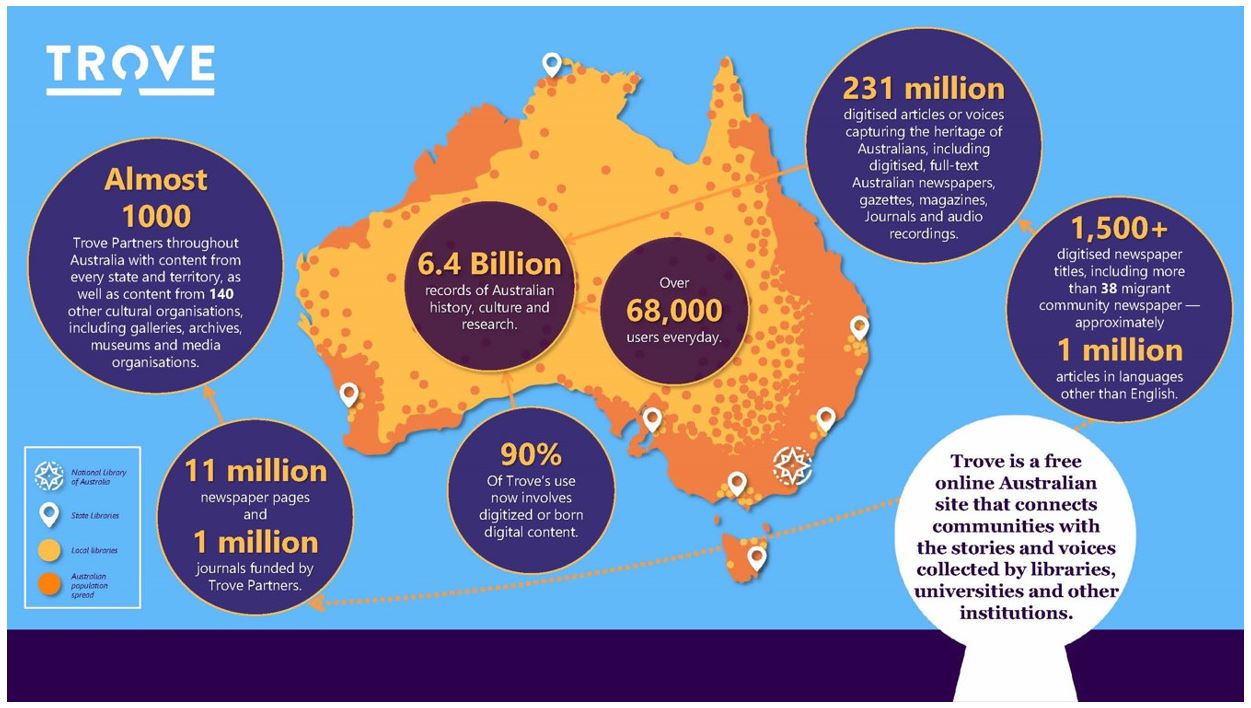 Why be a Trove Partner?
Trove exists because of the many organisations and community groups who work with the National Library of Australia to help make Australian content easier to find, share and use.
By becoming a Trove Partner, you can:
Belong to a community with a shared goal – to grow Australia's cultural collections for all to access over time 
Use a single and dedicated digital infrastructure to manage digital cultural collections end-to-end without the capital outlay
Configure and connect to ready-made digital services and workflows for process efficiencies  
Be supported by a dedicated and experienced service and technical teams for assistance
Make informed decisions on individual collections, based on how they are being engaged with in the context of others 
Share and leverage expertise of others to uplift capability on digital collection management 
Develop diverse and innovative engagement programs with individual collections and in collaboration with relevant partners
How do I become a Trove Partner?
Contact our dedicated Partner support team to match the service package that best suits your needs.
Find out more about how to become a Trove Partner and review the Trove Partner Terms and Conditions and fees.
What can I get as a Trove Partner?
As a Trove Partner, you will have access to a set of services which will streamline your organisation's workflows to support your organisation and community and leverage the Trove digital infrastructure. Learn more about how the service is managed.