Trove users interact with partner collections in context everyday. We provide real-time statistics and insights to partners about their collections in context to inform their strategic and tactical business and collection decisions. 
Do you want to understand how users are interacting with your collections in Trove?
Do you want to keep up to date on the progress of your digitisation projects with Trove?
Do you want to find out which items in your collection are unique within Australia?
Do you want to know more about how your organisation is contributing to the national resource sharing effort?
Do you want to know how your collection compares to others around you?
Do you need help undertaking a deep dive into your collection's strengths and areas for growth?
Do you want an overview of how your organisation is Partnering with Trove?
Then Trove wants to hear from you!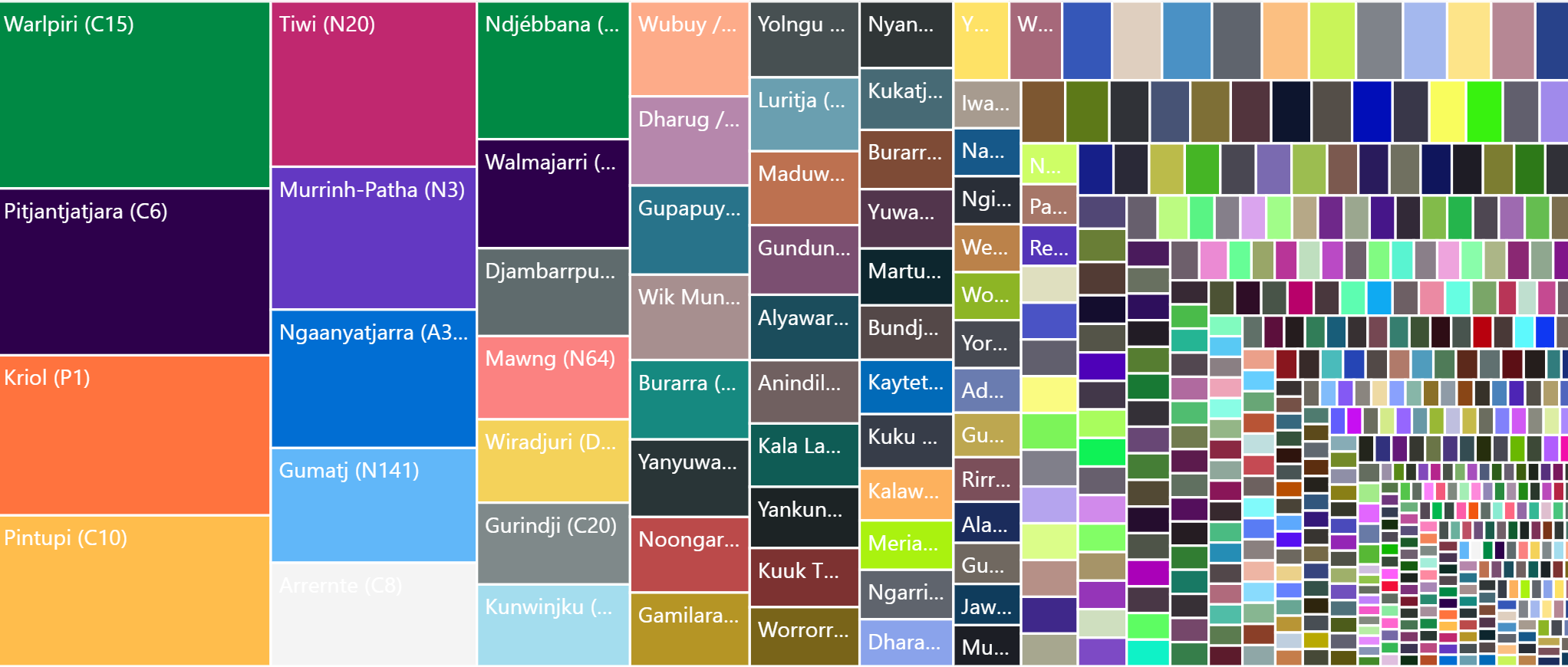 Records by Austlang code in the Trove Partner dashboard
 
Our service
Our partners can access analytical tools to understand and make decisions about their collections in the context of Australia's cultural collection in Trove.  
These tools include:
An interactive Trove Partner dashboard specific to your own collections with up-to-date statistics for your business management
Customised reports to help tell the story of your collection
Monthly report on Australia's recent publishing output for potential acquisitions
Data exports of a selection of your records or holdings. 
Get started
Contact us and our dedicated and experienced service and technical support team can work with you to create a customised report to help tell the story of your collection and provide a quote.
You can access your organisation's interactive Trove Partner dashboard at any time to get real-time insights into your collections:
Log in to Trove, view your user profile, and select the Trove Partner tab. Select the link to 'View Dashboard'
If you don't see a Trove Partner tab when you log in, follow the steps under 'Setting up a dashboard for your organisation' below.
Haven't got a log in already?
Someone from your organisation may have already set up a Trove Partner dashboard, please ask them for the details before submitting another form
You will need an active Trove account. A Trove account allows you to log in to the Trove website. It is not the same as a Trove Collaborative Services membership or an ALG or ILRS entry. If you haven't created one already, you can sign up for a Trove account here.
Once you have your Trove account, you can request access to the Trove Partner dashboard and we will set up you.