Digitisation is more than simply scanning material. The digitisation process involves consistent application of specifications, quality assurance of the digital images and text generated by OCR processing, as well as providing storage and management of large volumes of data for ongoing access. We provide the specialised knowledge, skills and systems support required for all this work.
If you are planning to undertake your own digitisation project, please contact Partner Support so that we can discuss the standards required for Trove. Partners can check out the fact sheet available through the Partner Learning Hub.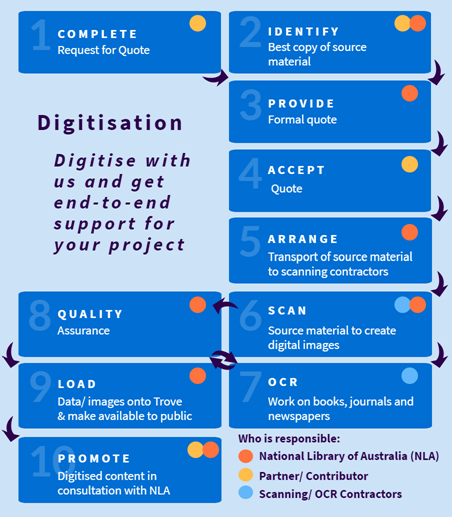 Digitisation workflow
1. Partner/prospective Digitisation contributor completes Request for Quote form (PDF 252KB).
2. Best copy of source material is identified (Partner/Digitisation contributor in consultation with Library's Digitisation team).
Where microfilm is available for newspapers, books and journals, the most efficient approach is to scan the most appropriate copy of the microfilm
3. The Partner Support team provides a quote for your acceptance.
4. Partner/Digitisation contributor accepts quote.
5. Our digitisation team arranges transport of source material to our scanning contractors.
6. Source material is scanned to create digital images.
Specially trained contractors undertake scanning of newspapers and other material on microfilm according to National Library specifications
Material that is fragile, large format or includes other special features, is scanned inhouse by professional photographers using specialised equipment
7. OCR contractors complete zoning, categorisation, OCR and rekeying work according to the Library's specifications for books, journals and newspapers. The OCR process for newspapers is the most complex and involves:
Each newspaper page is zoned into separate articles
Each article is assigned a category (i.e. News, Advertising, Family Notices, Detailed lists, results, guides; Illustrated articles are categorised as: Illustrations, Photographs, Cartoons, Maps, Graphs)
Each article is converted into a full text file by having OCR software automatically convert characters in the image into full text searchable works
The titles, subtitles, authors and first four lines of text in the articles are rekeyed manually to achieve 99% accuracy
8. Our digitisation team undertakes quality assurance work after both the scanning and OCR steps.
The quality assurance process includes automated and manual tasks. It covers:

Addition of metadata (title, issue date, page numbers, notes)
Sequencing of pages
Identifying any missing pages or issues and removing any duplicate pages
OCR processing – preliminary and final QA
9. Data and images are loaded into Trove and made available to the public with appropriate Partner/Digitisation contributors' attribution.  
10. Promotion of content via collection feature, blog post or news item on Trove (Partner/Digitisation contributor in consultation with Partner Support team).
11. Public engagement with data and images, including text correction (newspapers only), subject tagging and list creation on Trove.