Commonwealth Gazette 1901 to 1957
Government gazette fully searchable and freely available online for the first time
Two Commonwealth agencies have worked in partnership to bring this wonderful resource to you: the Office of Parliamentary Counsel (OPC), which supplied the content; and the National Library of Australia, which digitised and made these important public records machine-readable so that they will live on into the future through Trove. Users can correct, tag and annotate the contents just as they can with digitised newspaper articles.
Each Gazette documents the day-to-day business of governing and administering the Commonwealth. Usually published weekly, they were the principal source of public information on current legislation, and contained notices required by law on decisions made by the various departments and courts.
The subject matter of the Gazette ranges across all kinds of services and authorities, including defence, postal and telegraphic services, taxation and other forms of revenue, immigration, citizenship, trade and foreign affairs, national infrastructure and many others.
The issues of the Commonwealth Gazette now available on Trove date right back to the Federation in 1901, continuing through the First World War, the Great Depression, the Second World War, and finishing (for now) at the height of the baby boom and post-war reconstruction in 1957. More issues will be added in future years.
The very first issue of the Gazette, published on 1 January 1901, shows the proclamation of the Commonwealth of Australia by Queen Victoria. There were also instructions on a range of protocols, such as directions for appointing the judiciary, what should happen were the Governor-General to become incapacitated, and who will form Her Majesty's first government.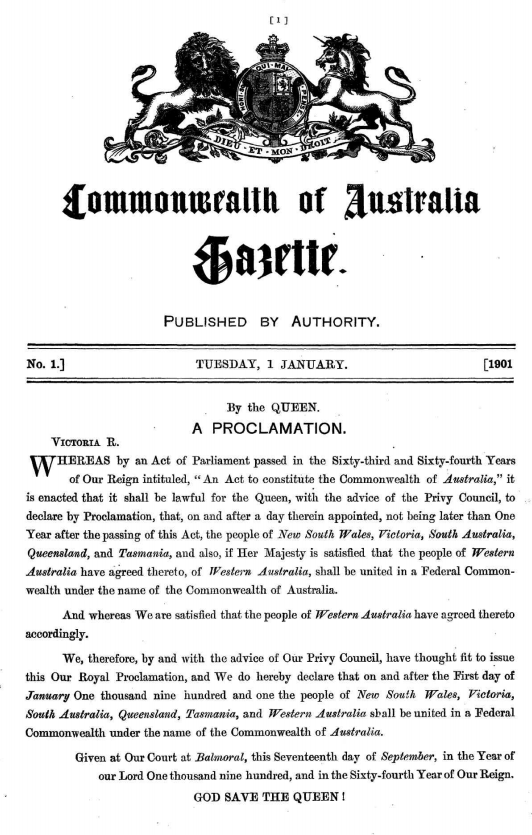 Queen Victoria died just three weeks after Federation. A notice from Prime Minister Edmund Barton in an 'Extraordinary' issue of the Gazette on 31 January 1901 instructed the new King's Australian subjects that they should wear "Deep Mourning" dress until 6 March 1901, and "Half-Mourning" until 17 April.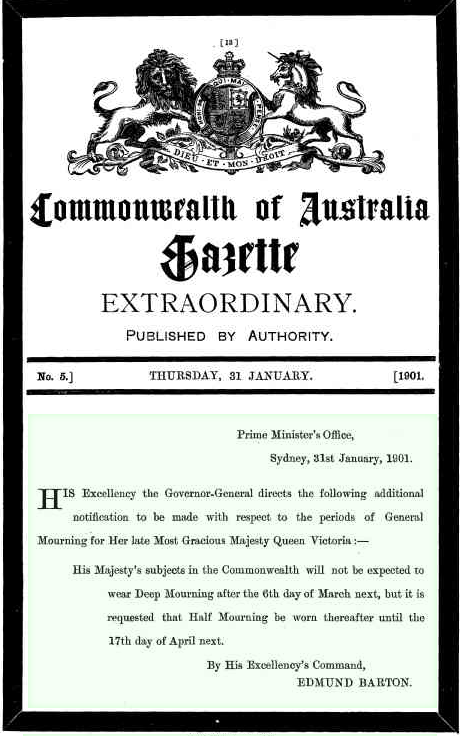 Each Gazette provides information about many forms of interaction that ordinary people had with their national government. Some examples include:
notices about people becoming naturalised as citizens
results of public service exams
details of military service, commissioning, and decorations
post office and military tenders
despatches from the Secretary of State for the Colonies
patent and treasury statements
statements of receipt and expenditure for Territories
Family historians will find the names, dates, citations, as well as geographical and other kinds of information in these notices immensely useful, especially for details that are not easily available anywhere else, if at all.
Certificates of naturalisation were usually published in the notices section. Researchers can now find this information much more easily, and use it in combination with personal data from other sources, such as immigration records, electoral rolls, and births, deaths and marriages records, to build up a detailed picture of somebody's life.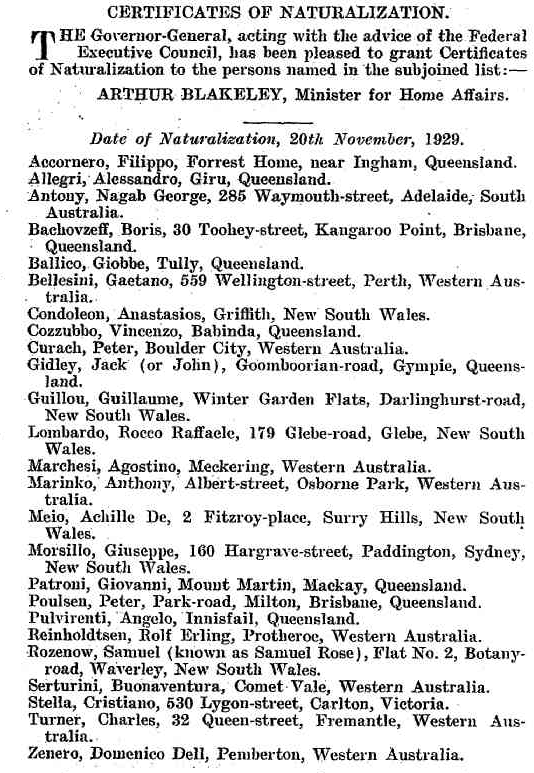 Public service examination results regularly appeared in the Commonwealth Gazette. Below is an example from 1911 for officers appointed to positions in Victoria. We see that the applicants were assessed on their capabilities for handwriting, dictation, English, and arithmetic. Was one of your relatives appointed as a telegraphist, or a messenger? How did they fare in their exam? What and where was their appointment?
The Commonwealth Gazette also offers a wealth of information about those who have served in the military. There were often notices advising promotions and decorations like the one below. Even small details can make a big difference for researchers.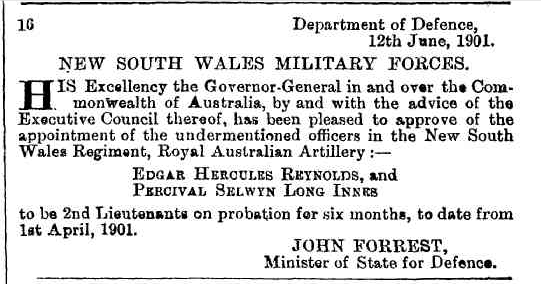 As well as information on individuals, there is much information to be gleaned about many organisations. There was once a body in Victoria called the Golden Square and Kangaroo Flat Rifle Club. An official notice of their change of name to the South Bendigo Rifle Club appeared in the Gazette after it had been approved by the Governor-General. The notice raises perhaps as many questions as it answers. Was it more than a mere recreational association? Did it play some role in the Victorian Defence Force? Why was vice-regal approval necessary?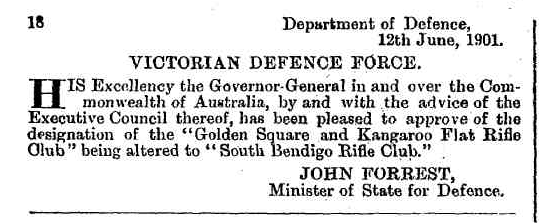 Government notices are full of fascinating mysteries. Why is it, for example, that the Post Office has refused to deliver mail to Phillip Anderson of 61 Campbell Street, Newtown? Read on for the answer...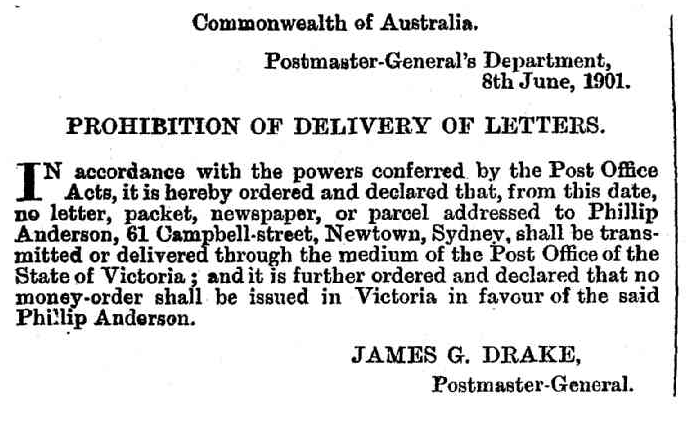 When this blog was first published on the NLA's website in 2019, we offered a prize for the answer as to why Phillip Anderson had his mail restricted. The answer was even more interesting than expected!
Mr. Anderson had advertised services as a fortune teller, and a Victorian journalist was dispatched to verify the strength of his psychic powers and found them lacking, as you can read in this article from the Ovens and Murray Advertiser: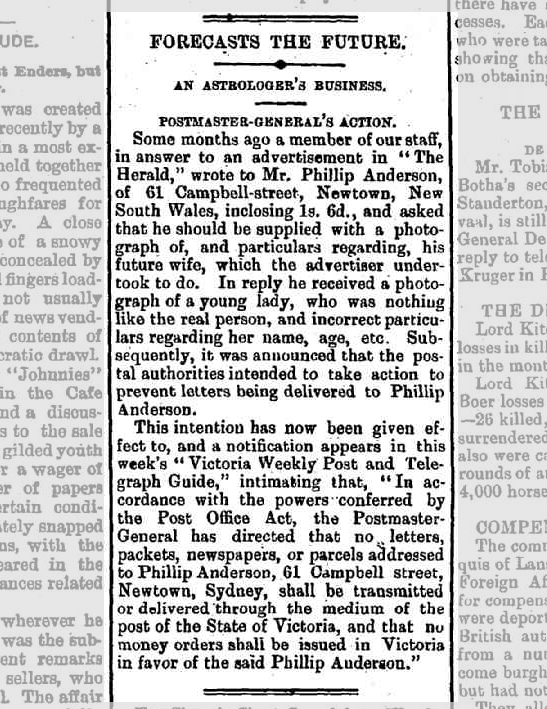 So, as our Trove researchers tell it, the Post Office exercised its powers to prevent delivery of mail to persons it deemed undesirable, including those running fraudulent businesses. At the same time, it also banned mail delivery to George Adams of Tasmania, trading as the well-known fortune teller "Tattersall", which apparently attracted a lot more attention.
Many thanks to keen Trovers Carmel Galvin and Charles Bartlett for this fascinating anecdote!