Family history for beginners
Discover your family's story with Trove
Interested in learning more about your family history but not sure where to start? Or perhaps you've started on your family tree, but run into a roadblock?
Trove is a rich source of historical information to help you on your genealogy journey. The collections – sourced from Trove Partners all around the country – include digitised newspapers, photographs, letters and diaries that contain a wealth of knowledge about Australia's past.
Starting your family history research can be daunting. There's a lot of information out there, and it's hard to know where to start. Armed with a few key tips and tricks, you'll be on your way to becoming a family history expert in no time.
Family Tree Charts
When starting your family history research, the first thing to do is write down what you know. You might be surprised by the facts you never realised you didn't know about your immediate family members - your parents and grandparents.
Use the Trove family tree chart and fill in the birth, marriage and death details for your parents and grandparents. This interactive PDF template might also inspire you to create your own chart for your extended family.
Download the Trove family tree chart (PDF, 115kb)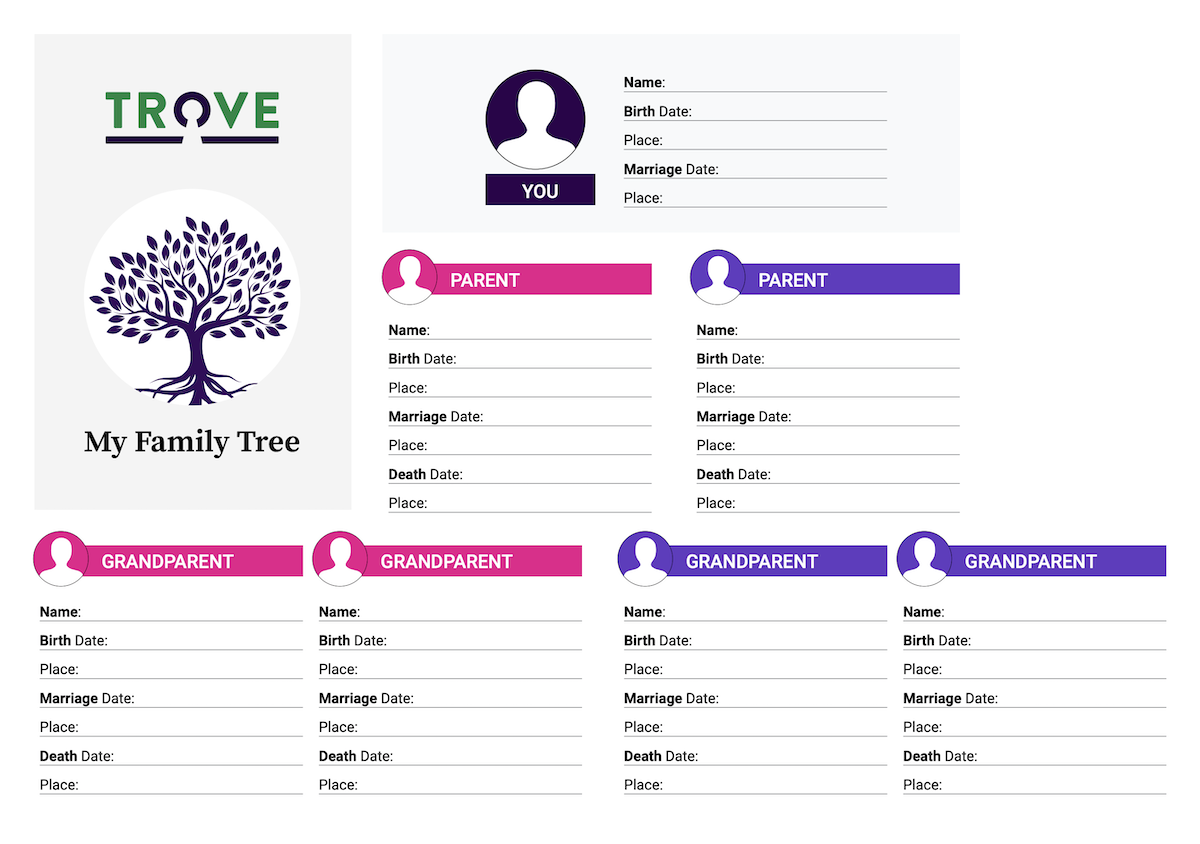 Understanding Trove categories
Trove brings together collections from cultural, community and research organisations all over Australia. These collections are made up of all different types of material, from newspapers, diaries and letters to photographs, maps and artworks.
In the Australian Web Archive, you'll find the records of billions of Australian websites, preserved as they were at the time of capture. Interesting information you can find in archived websites include published family histories, biographical details and much more.
Whilst your family history journey is likely to start in the newspapers category, where you can find key information like death notices and marriage announcements, your search options are limitless.
Find out more about Trove categories and how to use them
All you need is a name
If you're looking for information about your family history, all you need is a name to get started. Keyword searching for full names in Trove's digitised newspapers can turn up all sorts of information. There are lots of different reason why someone's name might turn up in a newspaper – births, deaths and marriages, court appearances and government employment are just a few.
You can also perform a keyword search for other types of names. Property names, like farms or estates, the names of small towns and settlements, or names of passenger ships can all provide interesting and unexpected results.
Filter your search by decade, state or newspaper name based on any information you might already have.
Learn how to search for newspapers in Trove:
Government gazettes
Government gazettes are an official government publication that list information relating to appointments, business matters and general government notices. In Trove, you'll find complete government gazettes for the Commonwealth and for New South Wales. Irregular gazette records are available for other states.
Gazettes are an excellent research tool to find out more about people in your family, or people you suspect may be related to you. Earlier gazettes listed information about convicts, including assignments, abscondments, periods of approved leave, conditional pardons and freedom status. They also included information about criminals and bushrangers, including descriptions of crimes and reward notices.
The records contain notices of employment for government workers, teachers and police, as well as information about new businesses, sales and bankruptcy declarations. Search for names of people or businesses to see what you can find.
The social pages
Newspapers are a great place to find reports on weddings and social events. The social pages often covered local events, cultural events, charity events and other interesting happenings. Many of these reports are also accompanied by photographs, which can be a great help if you come across something relevant to you.
If you find a social listing relating to someone you're researching, check if it contains any more information about their occupation, place of residence or their relationships – these tidbits of information might help you to expand your search. Marriage listings can also be a great way to find someone's maiden name, or their married name.
Explore the Library's Australian births, deaths and marriages research guide
Pictures speak a thousand words
Trove brings together the collections of hundreds of partner organisations around Australia. This includes digitised versions of posters, charts, maps, photographs, artworks and architectural plans from libraries, government organisations and collecting institutions all over the country.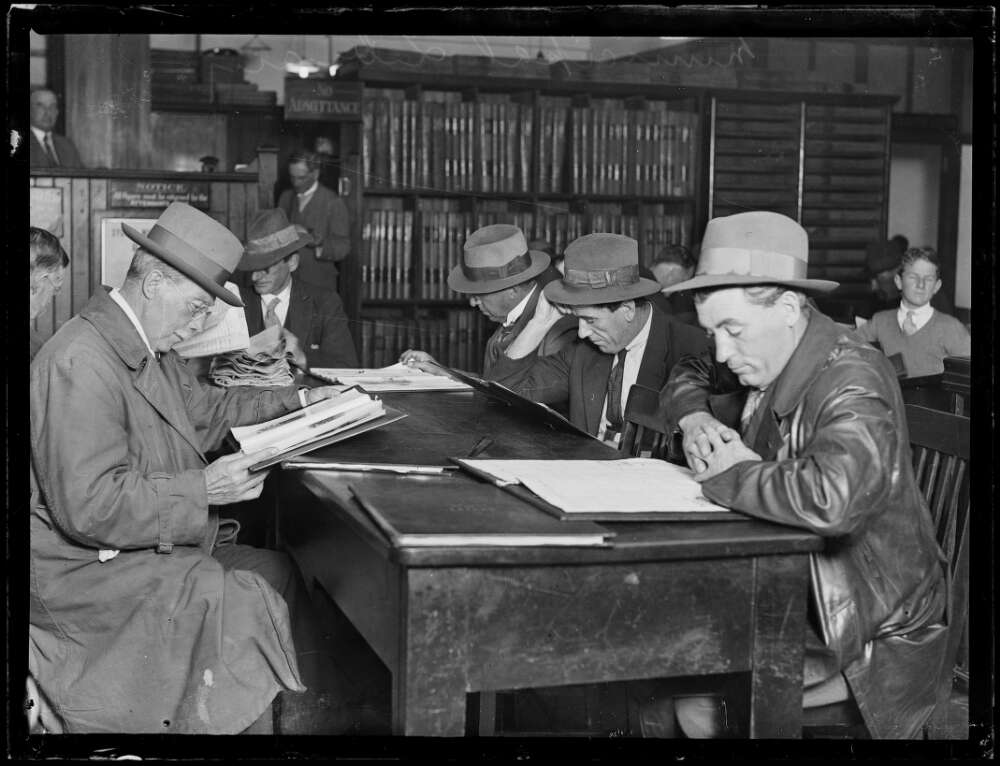 Keyword searching in the image category in Trove can bring up all sorts of unexpected results. Found out the location of a relative's property? Try looking for a map of the area. Discovered the name of a ship your ancestor may have arrived on? You may be able to find an photograph of the vessel.
The object listing on Trove will provide you with all the information you need, including the holding institution and any relevant access conditions.
Funeral notices
Newspapers also contain funeral notices, which are extremely helpful in building out your family tree. Funeral notices often contain the names of a person's spouse and children, as well as the town or city in which they died.
Use the advanced search option to search Trove newspapers for family notices. There's more information on advanced search at the end of this blog.
Continue your research with the Library's Australian cemetery records research guide
Foreign language papers
Tracking down information about relatives who immigrated to Australia can sometimes present a challenge. In Trove, you can find digitised foreign-language newspapers that were published in Australia. These resources can be helpful if your relatives were involved in an immigrant or expatriate community.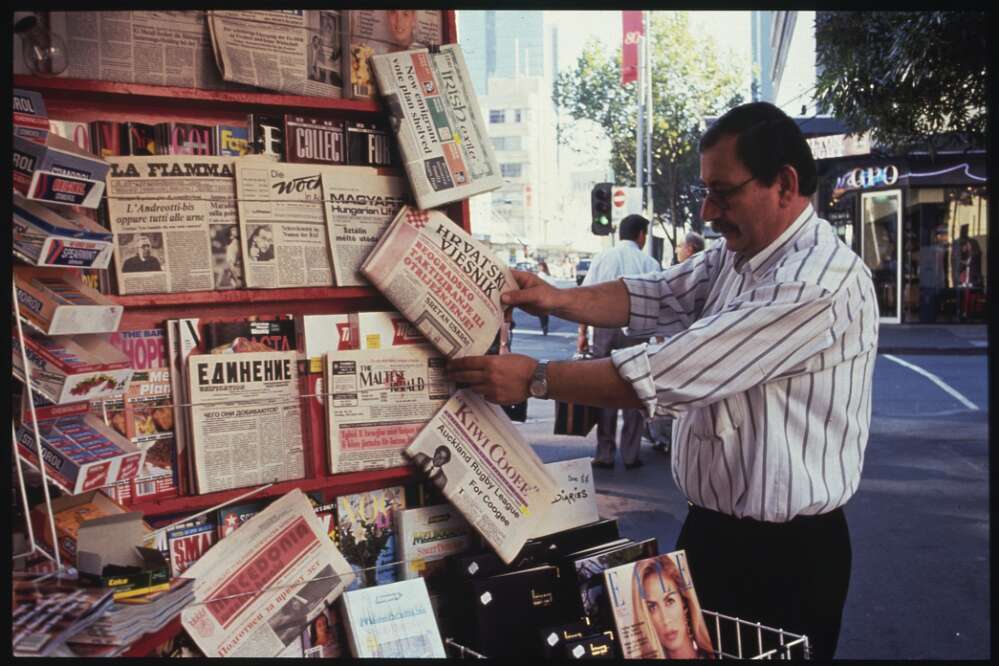 Newspapers in Chinese, German, Dutch, Italian and Yiddish can be found in Trove, along with many other languages.
Find out more about how to track down newspapers with the Australian newspapers research guide
Trove lists
Searching Trove for information can be a mammoth task. Luckily, Trove has an easy, in-built way to save and organise your research. Lists are a feature that allow you to save items in Trove into customisable groups, where you can add tags and notes to help you keep track of all the bits and pieces you've found.
This means you can:
Create different lists for different people, to help trace a person's history
Keep track of any interesting information you've found about people and places
Share your lists with other people, and make them collaborative if you are undertaking family history research with someone else
Add notes to each list and list item to remind you what they contain.
Trove lists are your very own family history filing cabinet.
Advanced searching
Tidbits of information you find in newspapers can help you further your research. Brush up on your search techniques to ensure you're getting the results you need.
Advanced search gives you more control over your query, with more options to narrow down your results. You can search for keywords in languages other than English, and use category-specific filters.
Watch a video to learn how to use advanced search:
Need help with your family history? Check out our family history research guide, or Ask a Librarian.