Coding Country
Trove's Austlang Code-a-thon
The story so far
Trove first implemented Austlang in 2019 – the International Year of Indigenous Languages.
And it was back in NAIDOC week of that year (with the excellent theme of Voice, Treaty, Truth) that Trove first supported a national code-a-thon to help tag resources in Trove that were in Aboriginal and Torres Strait Islander languages. This Code-a-thon was aimed at library professionals and others with a background in cataloguing and other resources. And it was a huge success with 8017 records having at least 1 Austlang code identified, 465 First Nations languages were represented and 9117 individual codes added to records.
Then in early 2022 it was decided to run another code-a-thon. This time aimed at First Nations peoples themselves. So that they could makes sure their own items were tagged. And that the ones that were most important to them were tagged. As a Gamilaraay woman as well as a National Library of Australia staff member I had the opportunity to add tags to items about my own family members and that relate to my Community and Mob. And the theme of this year's NAIDOC was Get Up! Stand Up! Show Up! – a call for action to bring about 'systemic change and keep rallying around our mob, our Elders, our communities.' And I loved that I could highlight and make it easier to find members of my community that embody this important message.
Why codes?
Using codes allows items to be linked as belonging to a specific language group which in turn makes collections more accessible and collection material more easily discoverable.
It allows people to search by language and ties together items. It says this items belongs to, is about or mentions this Country, Community, Mob or language. And this is particularly useful for First Nation items as most First Nation languages have multiple spellings.
My own Gamilaroi can and has been spelt in many ways. The Austlang database shows this: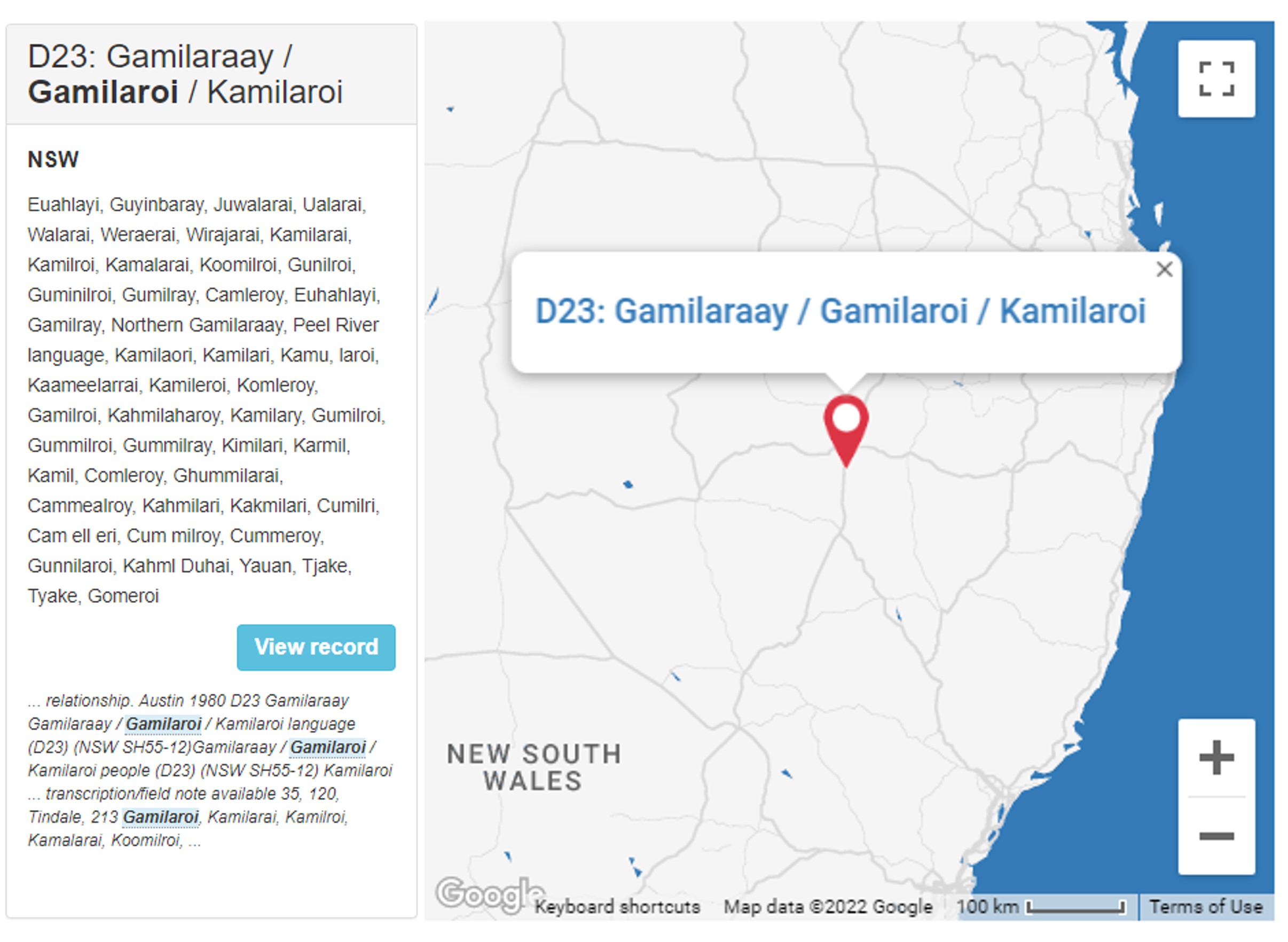 And multiple spellings make finding items difficult on Trove but with Austlang I can search for my code D23 [austlang d23] and find items that have been tagged without searching each language variation individually. It's also an easy way to say hey the language variation used in this item is weird but they are talking about your Mob.  
Why Austlang codes?
So why and what are Austlang codes?
Well the Austlang database was developed by the Australian Institute of Aboriginal and Torres Strait Islander Studies (AIATSIS). It provides information about First Nations languages which has been assembled from a huge amount of referenced sources. The dataset provided includes language names, each with a unique alpha-numeric code which functions as a stable identifier, alternative/variant names and spellings and the approximate location of each language variety.
For our purposes it's a stable non-changing identifier that ties together a huge amount of information under a small number. Allowing items to be tagged with D23 is easier than tagging every possible variation.
The Week
The Code-a-thon this NAIDOC was widely published with posts on social media, the NAIDOC events site, HerCanberra and even during a What's on at the National Library of Australia on WIN TV. Our Trove Partners were also alerted to the event during one of our regular Take 20 with Trove webinars.
You can see the all the tags added to images and objects in Trove - including Austlang codes and other interesting tags in this word cloud. These tags have been added by the community and make is much easier for everyone to find. You can check out this data visualisation by selecting the 'Explore' tab in the First Australians images and objects collection feature (and make sure you have an explore in First Australians maps and magazines and newsletters too!)
The Future
Going forward we hope people continue to tag items in NAIDOC Week or at anytime in the year! We also hope to do more to promote this going forward. In the background the harvester (a Trove system helper) will continue to run daily ensuring that codes will be picked up and not only allow others to find them but also add the Indigenous Message Stick icon showing that an item is First Nations if its not there already and allowing items to appear in Collection Features and other cool things.
So if you want to join in, read the information on Trove about how to tag and find your language code, and don't hesitate to reach out to Trove support.