Long time listener
Radio station 2SER digitises Listening Post magazine in Trove
Listening Post is the magazine produced by Sydney community radio station 2SER FM from 1979 to 1997. It was launched just before the station itself in October 1979, designed to capture the mood, but also the progress, of a rapidly changing media industry at the time. With the print edition, 2SER, or 'Sydney Educational Radio', was able to provide the city and its surrounds with a broad resource to connect and continue to learn. Initiated by the station's first manager, Keith Jackson AM, the magazine soon gained a dedicated following of those who wanted to get a grass roots, but also truly independent, view of the Australian media landscape.
A star-studded cast
Over its four decades (and counting) on air, 2SER has nurtured literally thousands of media and community workers. There are big broadcasting names, such as Richard Kingsmill, Julie McCrossin, Robbie Buck, Tracee Hutchison and Cath Dwyer; politicians, such as Tanya Plibersek; and countless behind-the-scenes media workers, such as super-producer Ian Coombe. Importantly, the station's alumni work all around the world, including for media outlets like the BBC and Al Jazeera, as well as local 'backbone' arts organisations, such as APRA and ARIA.
As for the musicians the station has featured, flaunted and developed, the list is long and covered with awards and accolades.
From country music to indie pop to dance to specialist vinyl, 2SER has made space for as many sounds as possible.
Importantly, the station has been a place for marginalised communities to connect and thrive – providing support for those who needed it during unnecessary persecution (through the pioneering 'Gaywaves' programming of the 1970s and 1980s, when LGBTQI people were being particularly targeted), as well as a first step towards specialist Indigenous programming (with pioneering broadcasters and activists Tiga Bayles and Maureen Watson). Women's and non-binary communities were also supported with initiatives like 'Crystal Set', as well as generalist, independent news like The Wire and Razor's Edge.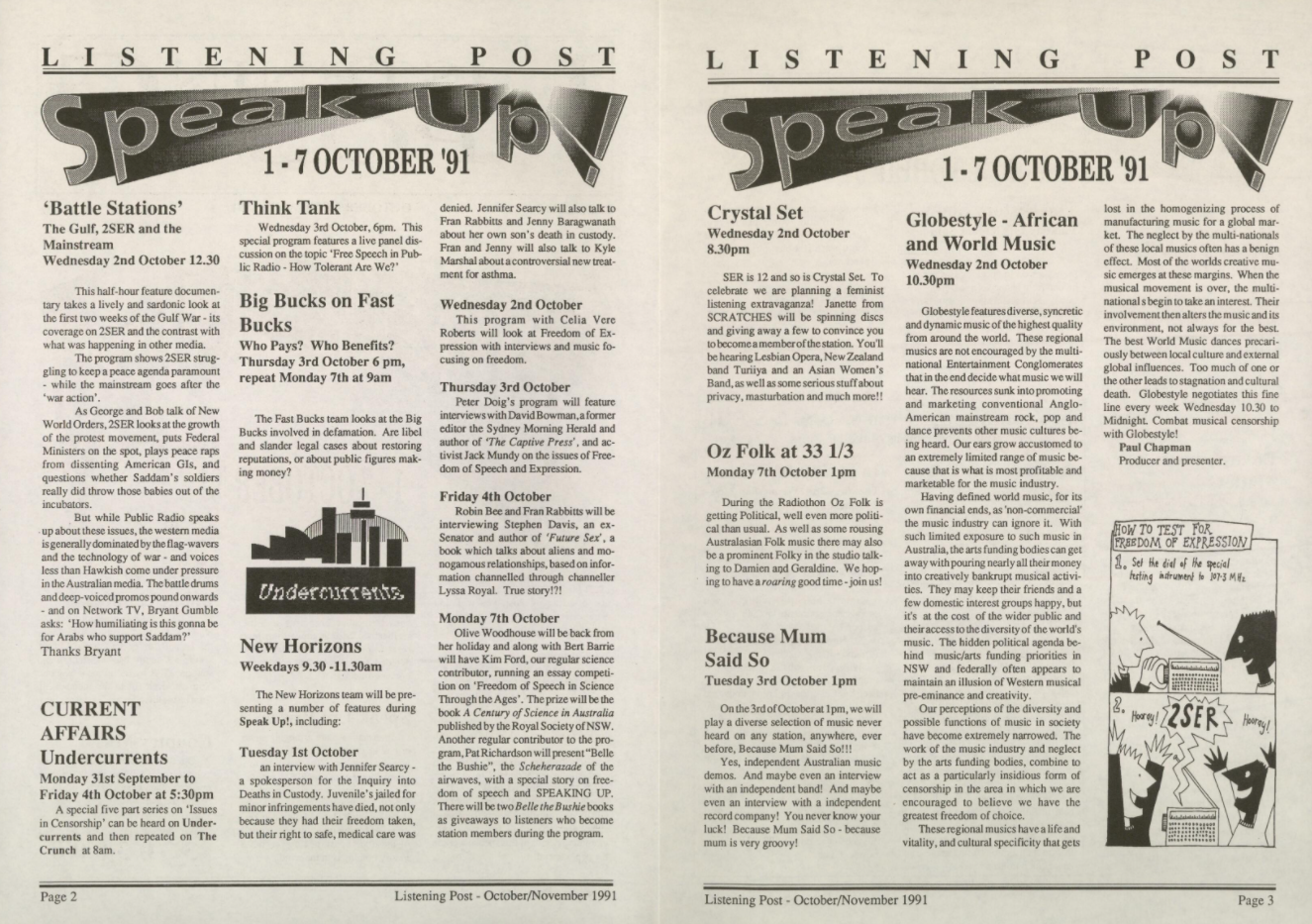 Teaming up for long-term access
Getting Listening Post deposited into Trove began when I saw a story about a collaboration between the University of New South Wales and the University Of Wollongong to support the deposit of magazine Art Express. Notably, this model showed two universities working together to provide an excellent accessible public artefact that will now be permanently displayed and protected. Inspired by this, the University of Technology Sydney (UTS) and Macquarie University, the two supporters of 2SER, each provided funding to support the digitisation of Listening Post, thereby ensuring the magazine, which up until that point was held only in boxes or incomplete collections, could be widely and permanently accessible.
The process of digitisation was smooth but with a few little bumps – including the need to complete a run of the serial. The National Library of Australia had some issues, the station had others, and finally we had to reach out to alumni – with station's 'founding father' Keith Jackson kindly loaning us his personal copies to complete the set.
Surprising and delightful finds
Now that Listening Post has been mobilised via Trove, we've been able to uncover some really interesting things about 2SER, but also about the music and media industries in Australia over time. These have covered a range of interests and audience types. For example:
The 1984 music strategy, set up by 2SER's then music producer Virginia Madsen (UTS graduate and now Dr Virginia Madsen, Senior Lecturer at Macquarie University and Director of the Centre for Media History). In issue 51 of Listening Post, Virginia explains her new vision for the station, including an eclectic mix of genres and audiences. Note in particular a gig to launch that features 'a country shindig following Nick Cave' – not your average radio mix!
Another piece found in Listening Post is the 'HSC any questions' series – a pre-internet call-in service that helped students across Sydney with last minute tips, tricks and queries.
Started in the 1980s, the station delivered prep pieces in 1997. Who knows just how many students' marks were boosted over that time, thanks to the station's support!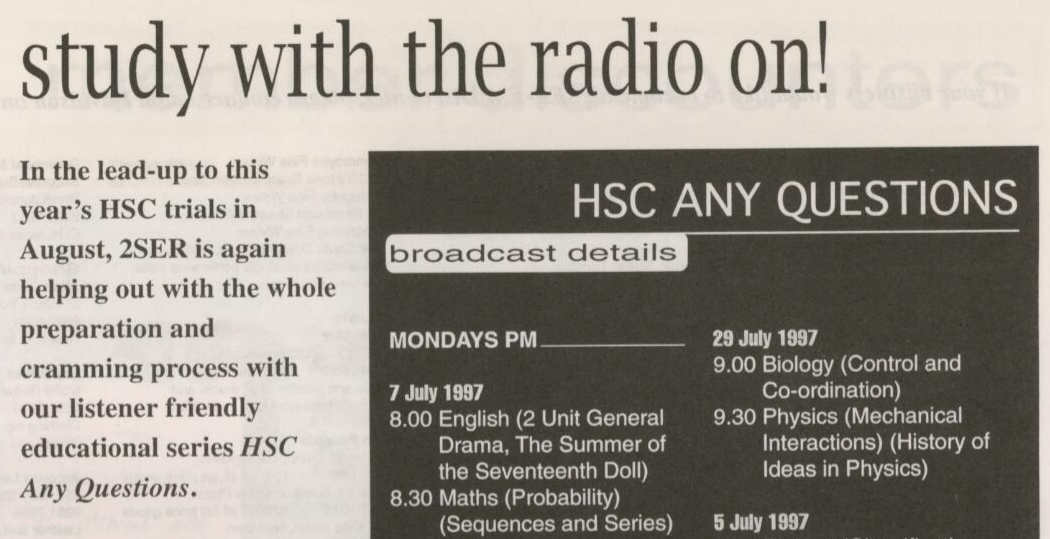 2SER has also led the way for documentaries, featuring long-form narrative and engaging content for decades. In addition to recent achievements, such as New York Festival Radio Awards for podcasts (History Lab, 2019), Listening Post tells us the station has been producing pioneering discussions and documentaries well before the digital age. This piece from the 1989 special 10th anniversary edition celebrates the station's win for Voices from the Forest, an environmental series that saw the station beat the ABC and commercial entrants. A great win, and debate ahead of its time.
Another special edition
In an exciting update since we 'went to Trove', in 2020 the station has been able to revive Listening Post as a 'subscriber special' publication for its annual Radiothon supporter drive. The special issue combined the best of 'now' with 40 of the best stories from the station's history to date. To do this, editor Demetrius Romeo dove into Trove to find, confirm and rebuild details that had otherwise been lost to time or sketchy memory. The special issue isn't up on Trove yet, but give it time! While you're waiting, browse issues from 1979 to 1997 of the Listening Post.
Dr Liz Giuffre is a Senior Lecturer in Communications for the Faculty of Arts and Social Sciences at the University of Technology Sydney.