To be continued
Discovering serialised fiction in Trove's digitised newspapers
Literary historian Katherine Bode describes how she and bibliographer Carol Hetherington used Trove to create a database of over 21,000 novels, novellas and short stories published in early Australian newspapers. This database enables anyone to read, explore, correct, add and export the fiction early Australians read and wrote. Its records are also harvested and represented in Trove's catalogue.
Imagine opening your newspaper in the morning (if you still get a printed one) and finding an instalment of a literary work in translation, such as French author Victor Hugo's Ninety-Three: A Tale Founded on the French Revolution of 1793 or Russian author Ivan Turgenev's The Brigadier. If your tastes run more to popular fiction, imagine reading one of Mary Elizabeth Braddon's sensational tale of bigamy and lost identity over your breakfast, or a story of danger and daring in the Australian bush. All of this and more appeared in nineteenth- and early twentieth-century Australian newspapers - where Australians read most of their fiction and were most likely to have their own writing published.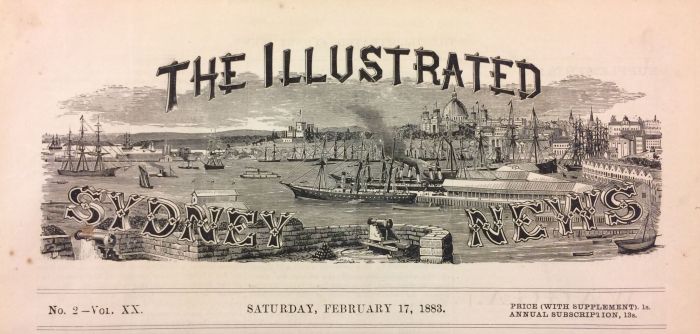 Literary historians have long been aware of the importance of newspapers to the history of reading and publishing in Australia. But the size of the newspaper archive meant we've previously had little idea of the types of stories published - where they came from, how they were sourced and what they contained. Trove changes this situation dramatically, allowing us––for the first time––to discover fiction in Australian newspapers in a systematic and large-scale way.
Finding stories
The secret to this discovery was using the search box (and Trove's API) in a slightly different way. The obvious approach would be to enter a story title or author's name. But that strategy has three problems. It would take a long time to search Trove using all known fictional titles and authors; it would only find stories we expected to discover; and it wouldn't capture stories where the title has been changed or, much more commonly, where the author's name is not given (anonymous and pseudonymous publication was common in this period).
To overcome these issues, we searched Trove using words that commonly introduce and surround newspaper fiction: 'serial', 'story', 'our author', 'tales and sketches', 'our novelist' and, most successfully, 'chapter' (this term commonly appears in the first four lines of newspaper fiction and then, again, throughout the article, meaning it is returned to the top of the list of relevant results). There's more work to do once these results are exported, such as grouping instalments of the same story and working out who anonymous authors might be. But once done, the process yielded over 16,000 novels, novellas and short stories published between 1865 and 1899 and a further 5,000 published between 1900 and the start of WW1.
We discovered thousands of titles from Britain and America, as well as a substantial amount of French and German fiction in translation, and stories from as far afield as Austria, Canada, Holland, Hungary, Italy, Japan, New Zealand, Russia and Sweden. There are many more stories that remain to be discovered: Carol and I finished harvesting fiction for this project in July 2015, and many more newspapers have been digitised since that time.
With 21,000 stories, there is also much more I could say about the fiction that early Australians read and wrote than can be covered in a short blog! With the aim of whetting readers' appetites to dive into the fiction in Trove's newspapers and To be continued: The Australian Newspaper Fiction Database, let me offer four discoveries relating to Australian fiction, before I say more about how people can get involved.
New fiction by well-known Australian authors
Catherine Martin is one of the most well-known women writers in Australian history, recognised for her vibrant depiction of 'an Australian girl', in her novel of the same title, and for writing the first novel to centrally feature an Indigenous Australian protagonist, in The Incredible Journey. Our search of Trove's digitised Australian newspapers uncovered five previously unrecorded stories by Catherine Martin: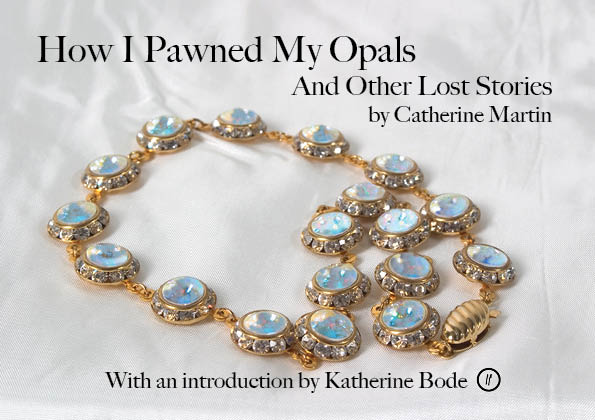 We decided these stories were so important they should be the first collected in the To be continued series, which will publish lost Australian fiction through Obiter Publishing. But to give a sense of the potential for new discoveries, no sooner had we finalised the contents of the book when another new Catherine Martin story surfaced - Cadenabbia.
Who knows how many more of her works remain to be discovered.
New Australian authors
John Silvester Nottage is an unknown and prolific Tasmanian author whose stories were widely published in newspapers, especially the Launceston Examiner and the Tasmanian. His multiple novel- and novella-length works were targeted at Tasmanian readers. The opening to his 1885 story, Cousin Ronald, about lost family and inheritance, shows him cheekily maintaining the superiority of Tasmania over Victoria in a way not dissimilar to state-based rivalries of today:
'I cannot honestly assert that Victorian scenery equals Tasmanian in beauty, but there are some pleasant spots to be found in that young and vigorous colony...though a Tasmanian accustomed to the emerald tints of his own lovely isle would have turned from the dried-up, brown and dusty paddocks in disgust in the summer time, there were a few short weeks in the sprint time when Springfield was a pleasant dwelling place.'
You can visit the record of this author in the To be continued database, to access and read these titles in Trove. If you're especially interested in the work of newly-discovered Australian authors, a selection has been listed in the database, as a starting point for further exploration and editing.
New identities for Australian authors
As noted above, fiction was often published anonymously and pseudonymously in Australian newspapers. Connecting titles to known authors often involved a serpentine trail through pseudonyms and authorial signatures. For instance, the signature for Clare's Christmas Eve – as 'By the author of "The Explorer and Other Poems"' – was the key to identifying this title as by Catherine Martin (author of that book of poetry).
Sometimes it was comically difficult to work out if an author name was a pseudonym or not. We originally categorised 'Captain Lacie' as a pseudonym before discovering an article (complete with portrait) presenting him as a historical person, and 'celebrated Australian writer'. Only later did further evidence emerge supporting the first interpretation: a story published in 1902 in the Mercury and Weekly Courier attributed as 'By Captain Lacie (James J. Wright). Author of "The Gem Finders", "In the Wake of Fortune", "Narratives of the Bushranging Times", "The Huts of Ellerslie", &c., &c.'.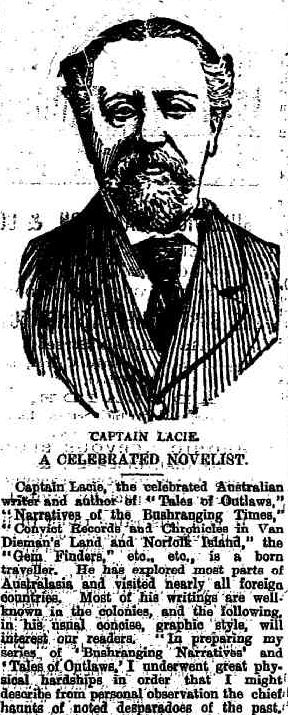 As well as to the pseudonym 'Captain Lacie', the titles mentioned in this signature also tie James J. Wright to the pseudonym 'Ivan Dexter'. With these two well-developed pseudonyms, and other clues from signatures, we have James J. Wright listed as the author of 24 novels and novellas and a further 3 short stories discovered in Trove. Altogether we discovered 145 publications. Where Mary Elizabeth Braddon––popular British writer of sensation fiction––was previously believed to be the most widely published author in nineteenth-century Australian newspapers, this total suggests James J. Wright's works were more widely published. Certainly, he emerges as one of Australia's most prolific authors.
As with the authors above, many of James J. Wright's stories had previously been lost to Australian literary history. Users of the database and Trove therefore have the opportunity to be among the first to rediscover his rollicking adventures of life in the early colonies, including stories of convicts and bushrangers.
New sites of publication for Australian fiction
Literary historians have previously believed most nineteenth-century fiction was published in metropolitan newspapers, especially in weekly companions to the major metropolitan dailies such as the Australian Town and Country Journal in New South Wales, and the Leader in Victoria. In fact, Trove's digitisation of hundreds of nineteenth-century newspapers enables us to see that provincial newspapers published more fiction than their metropolitan counterparts. They were also more interconnected in their publishing than metropolitan newspapers. The multiple titles published in common by multiple newspapers bring into view eleven major syndicates operating in the provincial press, only one of which was known previously.
Appearing in these pages were numerous stories by Australian authors: mostly men. With their works syndicated across multiple provincial newspapers, these authors would have achieved a much larger audience than the Australian authors––more likely to be women––published in metropolitan newspapers. The works of this new group of authors hold out the possibility for a new history of Australian literature based on the stories Australians were reading rather than the ones that literary historians have concentrated on. Some of these newly discovered authors and titles in provincial newspapers include: 
The tongue-in-cheek opening to Stephen's story above gives some sense of how these fictions were oriented to a provincial readership rather than a metropolitan one:
'When John Davidson Squires captured the belle of the season, everybody was not only surprised, but disgusted. That an unknown squatter – most probably a Yahoo – should bear away the prize from under the noses of all the aristocracy of Sydney, was too much.'
New types of Australian stories
As the stories above suggest, much of the Australian fiction in To be continued is set in the Australian bush. Literary historians have understood the bush tradition to have arisen in the 1890s, particularly in the pages of the Sydney-based Bulletin magazine. These stories show that the tradition was well and truly established by the 1890s, and in fact began in the pages of provincial newspapers. Other features of the story likewise contest existing understandings of that 'bush tradition'.
Families in an Australian landscape
The solitary frontiersmen of the bush is replaced in many of these stories by tales of families and communities living in remote areas. The illustration below is indicative in this sense. From "The Story of a Pendulum" by Australie, published in the Illustrated Sydney News in 1891, it shows the dangers of the bush––here, as often in these stories, a bushfire––being confronted by a man and woman together.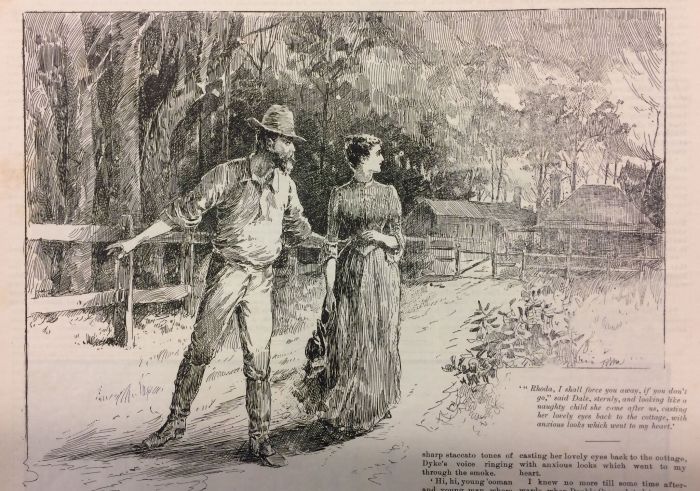 Or to give another example, Mary Hannay Foott's A Whim of the Mistress, tells the story of the mysterious disappearance of a child in a remote outpost of Darling River country, and his sudden reappearance as an adult, unable to remember his childhood due to amnesia but drawn to this place.
Even when male characters spend a lot of time alone in the bush, it is often the case that the domestic sphere, far from absent, is evoked with longing. For instance, in F. E. Lockwood's The Genii of the Vanguard, the protagonist, Jack Jones, works as a fencer on the boundaries of a remote station. But he thinks of his wife and children often, writes them letters and works explicitly for them. He also has as many interactions with the wives of other men––the shepherd, the station manager––as with the men themselves.
Colonial tensions in print
Another unexpected feature of these Australian bush stories is the centrality and prominence of Indigenous Australian characters. Australian literary historians have widely argued that, beginning in the nineteenth century, fiction replicated the legal lie of terra nullius by not depicting Australia's indigenous peoples.
By contrast, these Australian bush stories are full of Indigenous Australian characters. In many, these characters are presented in friendly and harmonious, though inequitable, relationships with colonists: for instance, teaching them about bush foods, guiding them through the bush, looking after stock, or simply spending time around the station. Most are roughly drawn sketches or stereotypes––the childlike native; the lazy black; the harmless primitive––and their purpose in these narratives is to assist, and thereby to justify, the colonial mission.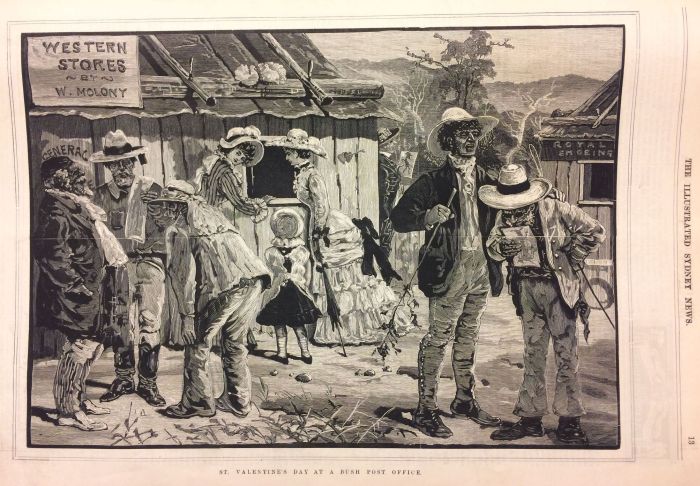 In others, including two of those mentioned above, the fear underlying the colonial mission is directly represented through descriptions of attacks by Indigenous Australians, and bloodshed. However, read closely these stories reveal a much more unsettled view of colonization than descriptions of attacks and bloodshed might suggest. In 'A Whim of the Mistress', the once-lost-now-returned white boy, Bobbie, launches a sudden, murderous attack on his Indigenous Australian 'friend', Spider. This shocking attack is shortly followed by a passage describing them sitting companionably together, 'the morning's quarrel apparently quite forgotten'. Far from indicating their true friendship, this sequence suggests the violence underpinning all the other seeming friendships between Indigenous Australian and European characters in these stories.
 Likewise, in 'The Genii of the Vanguard', the station master is speared and killed by a group of Indigenous Australians. When Jack tells the shepherd about this attack, the shepherd's response presents Indigenous Australian people as savage cannibals, but also as following a clear law that situates Europeans as trespassers on their land: 'I'd never have brought my family here if I'd not known how strict the tribal laws are. The natives would kill and eat their own children rather than hunt on ground not their own'.
Explore, edit and share
The authors and stories I have described above are just some of those identified in To be continued: The Australian Newspaper Fiction Database. This database is available for anyone to explore and the fiction can be searched in multiple ways, including by date of publication, gender or nationality of authors, or keywords in the text or newspaper title.
The database links to the fiction in Trove and to its text correction facilities, so users can correct the text as they read along and then draw the corrected version back into the database by clicking on the "Update text from Trove" button in each chapter record. I normally find text correction in Trove addictive and can report that it's even more so when you are in the grips of a thrilling story.
With this database you can be the first modern-day Australian not only to read but to edit a previously forgotten story, from Australia or around the world. You can even export the story when you've finished and publish it on Project Gutenberg to achieve your own first edition! Another feature of To be continued is that it allows users to add missing instalments when they come across them in Trove, or to add entirely new stories discovered in Trove's digitised newspapers. All of these activities serve to improve and enrich our understanding of Australian literature and literature in Australia.
Finally, and very excitingly, Trove now harvests records from the database. So if you do discover a new story and enter it into the database, it will shortly appear in Trove, for other people to discover. Thus To be continued uses Trove to enlarge and extend our record of the history of Australian literature and literature in Australia, while also supporting Trove in its ongoing work to enriching and expanding our understanding of the past.
This blog was first published on the National Library's Trove blog site in February 2018.