Hunt for the missing Mimag
Join a Trove treasure search for a Mount Isa mining magazine
Trove's digitisation of the Mount Isa Mines (MIM) publication Mimag [update URL] (1947-1996) is now only one issue short of a complete, online digitised set, and we need your help to find the missing magazine.
Former MIM employee, local history buff and Trove user Costas Costantinides has gone some way to help complete our set, offering the National Library PDF copies of his own printed September (No. 2) and October (No. 3) 1947 issues, then known as the Mount Isa Mines Magazine. He had come by a large number of Mimag issues when the Mount Isa Historical Society folded and was absorbed by the Mount Isa City Library. 
The inaugural August 1947 issue is now the final issue missing - but according to Costas, it won't be an easy job to locate it.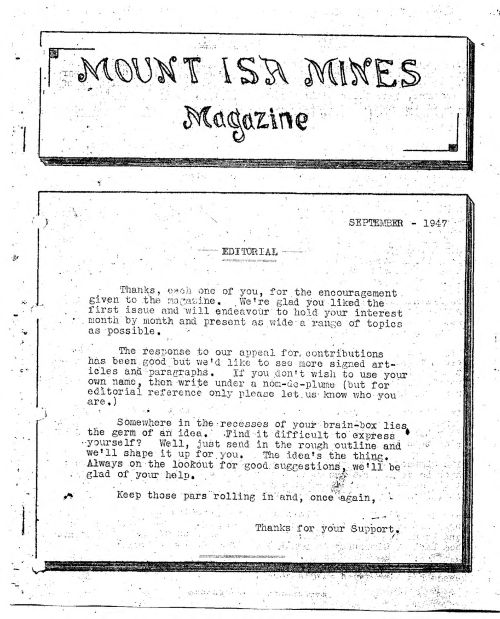 He said a call had gone out on Facebook for the missing issue, but he fears the limited number produced may have ended up in the bin. "It went to about 50 or 60 people, and everyone probably treated it like a normal letter and just threw it in the bin,'' he said. "And when they got the second and third one they thought this might be worth keeping.'' But there may be some still in a box or drawer somewhere.
Costas said company employees produced the first four issues on their own, but in a company office and with company equipment. MIM appears not to have a record of these. When the magazine's popularity became apparent, MIM stepped in for the December 1947 issue to improve the quality of the publication, changing the name to Mimag and printing it in Townsville. Costas said it used to carry a lot of social news and was virtually the Facebook of its day.
Regular features included local history, company and staff statistics, a personal column, social news, comings and goings, clubs and sporting information, baby arrivals and weather, as well as the odd joke sprinkled throughout. A regular column in 1952, 'Our Neighbour' featured a different Mount Isa family each issue, including photographs of the family going about daily tasks in their home. "Depending how important or popular they are in the community, [many people] usually have an article written about them somewhere" Costa said. "There are always little clues to pick all this history up."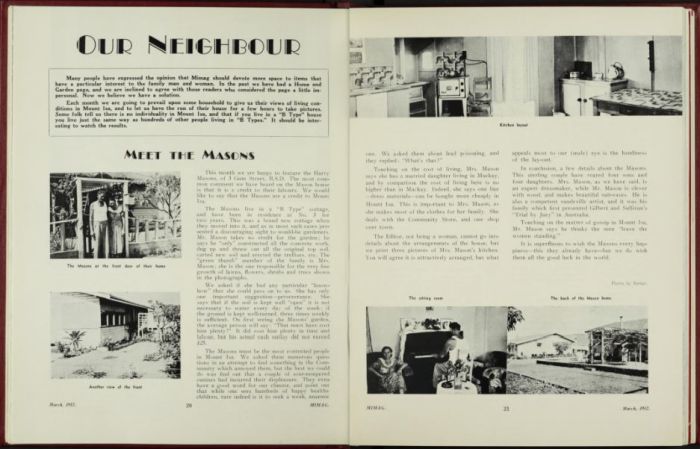 The history includes not just the mines, but the melting pot Mount Isa became after the war with 50 or so nationalities working there, including Costas's miner father who came out to Australia from Cyprus in 1947. He was to have a central role in the aftermath of the 1964 strike, being the spokesman for 45 blacklisted workers who went all the way to the High Court to get their jobs back.They won, but it took 10 years for MIM to re-employ them.
Costas said Mimag was one of four or five similar publications in Mount Isa, but he is not aware of any copies of those surviving, emphasising the importance of searching collections for possible significant material and the role digitisation plays in their preservation."I haven't got a full set [of Mimag], but now that they're all on Trove I don't really need to have paper copies,'' he said."Finally we've ended up so everybody in Australia who wants to see the full set can see it on Trove, whereas before you had to go from place to place and house to house.''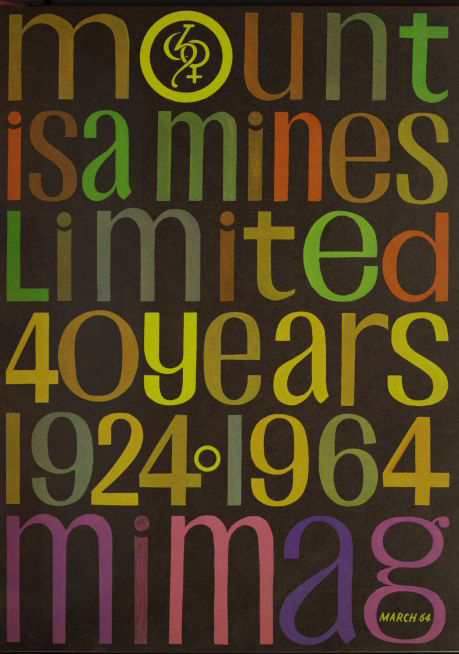 Except for that elusive first issue, of course.
As for Trove, "I think it's the most important thing we've done historically for a long, long time here in Australia,'' Costas said. 
Do you know where a copy of the first Mimag might be? Or know somebody who might have a copy in their collection?